6 Big Mobile Gaming Trends
If the future of gaming is mobile, then it'd be crazy to not study it.
Welcome to Master the Meta, a newsletter focused on the business of video games.
Happy New Year!
One of my 2020 tasks is to gain a deeper, more intuitive understanding of the mobile gaming landscape. As someone who's mainly studied public companies and played on console, there's a lot for me to learn: how to best follow private gaming companies, how to track install/revenue data, who to learn from, etc.
I've shared this chart before but it's worth sharing again:
If you're serious about understanding — and capitalizing on — the future of gaming, you're insane to not be learning about mobile. As I stated in my 2019 Annual Review, "if the future of gaming is anything, it's mobile."
This post is my attempt to share what I've learned so far. Enjoy!
Six Major Trends
The mobile gaming industry is filled with lots of noise. Barriers to entry are low, but the path to sustainable scale is hard, and there are companies at every tier vying for attention and dollars.
In an attempt to cut through the noise — and with a general focus on the Western market — here are six high-level trends to be aware of:
1) Battle Passes: The New Normal
Dota 2 conceptualized the battle pass framework, and Fortnite popularized it in 2018, but 2019 was when battle passes — in which players pay a (usually) monthly fee to access exclusive perks that get unlocked the more you play — truly took off. While this isn't unique to mobile, it's taking the mobile world by storm:
From GameRefinery:
In other words, at the beginning of 2019 only ~2% of the top grossing 100 games (on iOS) used battle passes. Now nearly 25% do. The fast following is impressive, but it makes sense why companies are quickly jumping onboard. Battle passes are a simple, low-cost transaction that keeps the most active players engaged… and heavily rewards them for their progress.
I don't expect this trend to go away — although it will probably flatline within a couple years — but I expect the economics to evolve. For one, there's room to test price elasticity; in many cases, it will make sense to opt for higher prices and a lower subscriber base. Second, and more important, companies should start implementing auto-renewals. Yes, different countries have different laws, and some companies may abuse the system, but the simple tactic of requiring people to "opt out" instead of "opt in" every single month will dramatically increase renewal rates… as it does in every other industry. Everyone's been talking about the rise of platform subscription services, but perhaps in-game subscription services should be getting more attention.
2) Rise of the East
From GamesIndustry.biz:
Asia's influence over the top rankings is clear. Six titles in the overall top ten for revenue were developed in the region, while Asian publishers are responsible for seven games on the App Store chart and five on Google Play. Zooming out to the overall top 30 grossers, 17 of the games are published by Asian companies.
Furthermore, Asian companies — mainly Tencent — are part-owners of six of the other top 30 titles. So 23 of the top 30 grossing games are owned or backed by Asian companies. Asian companies won't have a monopoly on mobile games, but 23/30 is a pretty staggering number, and it may rise further as more Chinese apps gain traction in the West.
Tencent continues to strike deals, companies like NetEase are launching studios in new countries, and native businesses in countries like Japan are already feeling the heat from Chinese competitors:
Japanese smartphone game makers are shrinking their lineups and cutting jobs, under pressure from Chinese developers who are pushing into the market with apps that are winning praise for creativity and ease of play. Link
I suspect Chinese games will start making a bigger dent westward, too. Lower labor costs help Chinese companies launch more games at a faster pace, there's naturally deep expertise in the world's largest gaming market, and those companies will want to increasingly tap into new, global markets. Apart from general competition — more companies competing for the same players' time — the result will probably lead to higher CPIs (cost per install) as more dollars continue to flood into the largest ad networks.
3) A Hypercasual Evolution
I'm not an expert on the hypercasual genre — simple games that offer instant gameplay — and will let Deconstructor of Fun's (DoF) blog post tell the full story. However, if the story is to be told in one chart, it'd be this:
It's easy to understand why this genre blew up: These games can be quickly made, and due to belligerent ad-based monetization, the average lifetime value (LTV) of players remained higher than the average cost to acquire them. No wonder several of the top 10 most downloaded mobile games of 2019 were random hypercasual games: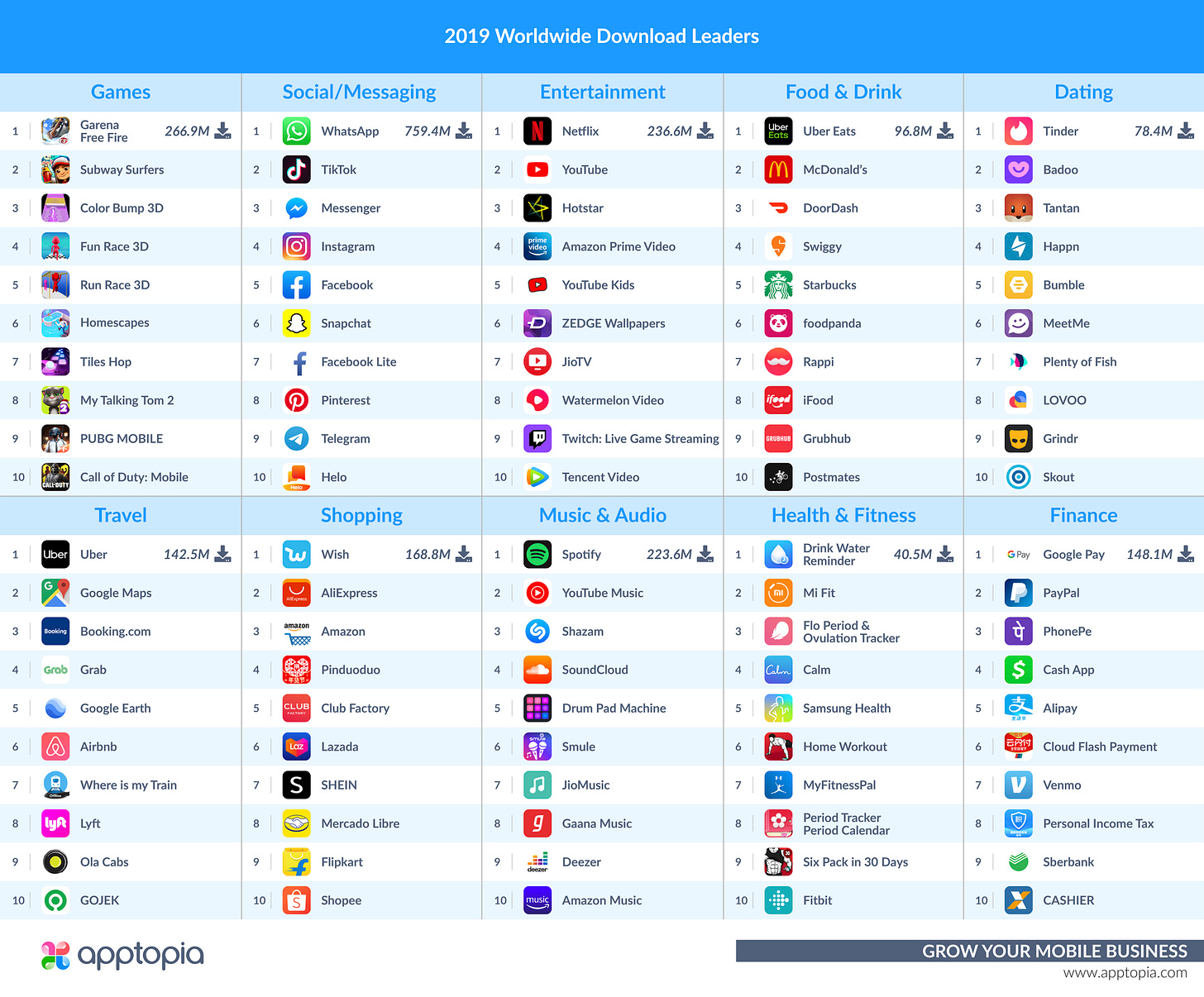 Of course, like all industries with low barriers to entry, holding any sustainable advantage usually grows futile. As more companies fight for the same players, CPIs rise and the margin between CPIs and LTV falls. Furthermore, as margins shrink and as speed continues to separate the winners from the losers, companies in regions with low labor costs gain a favorable advantage. As a result, even though hypercasual downloads have increased, the companies reaping the largest rewards have mostly changed. Also, even though the genre saw another download jump in Q2 2019, there are signs that growth is sputtering out again.
The best part of the DoF blog post, however, is it's forward looking perspective:
Something's got to give. And by mid-2019, Archero entered the scene and took the world by storm. Simply put, it is a game with a strong hypercasual core, super light meta and hybrid monetisation tactics. On top of that, it scaled rapidly by making the most of a hypercasual style user acquisition strategy that catered to hypercasual and IAP users alike. [...]

And quite frankly, Archero has everything we predicted. It makes us comfortable to stick to our guns and predict that the hypercasual gold rush is about to end and that the new gold rush will be funded by games that can monetise off of hypercasual players. Games that are built with a hypercasual inspired production process, have simplified meta-systems built on addictive easy to play cores and most importantly, games that make the most of hybrid monetisation, and apply user acquisition strategies that allow them to profit from both traditional hypercasual and IAP [in-app purchase] users.
They call this evolution "hybridcasual" and it makes a lot of sense. As the margin between CPIs and LTV falls, games can improve their economics by keeping a lot of the same acquisition tactics but refocusing on retention, which likely means IAPs (like battle passes) become more relevant.
As the hypercasual genre evolves, companies around the world will need to find their place:
Some (likely international, often small) companies with low-cost advantages can still pursue hypercasual as we know it.

Some mid-size companies should build a (low-cost, probably low profit) hypercasual production system, where game mechanic learnings can inform the more methodical development of hybridcasual/mid-core games.

Large publishers shouldn't chase hypercasual because it would likely be an inefficient use of cash and lead to limited competitive advantages; however, they should be on the lookout for the mid-tier companies who find ways to leverage hypercasual production into other, more profitably learnings.
It will be fascinating to see how this genre continues to evolve.
4) The Mobile Esports Explosion
American and European players got exposed to battle royale games through DayZ, PUBG, and Fortnite, but much of the world is joining through mobile games. This trend has only been around a couple years, but the scale at which people are downloading and playing is pretty astonishing.
Check out the download numbers for some of the leading battle royale games:
Fortnite (mobile) — 130+ million

Call of Duty: Mobile — 170+ million

Knives Out — 200+ million

Garena Free Fire — 450+ million

PUBG Mobile — 600+ million
Of course, these games are popular in different regions and retain/monetize at varying rates (each with 10s of millions of active players). But the fact that a game can accumulate 100s of millions of registered users in such a short period of time is remarkable and on par with many of the greatest internet properties.
Retention should grow as a theme with these games in 2020+, and I'm curious to see how different companies approach it. New maps, new modes, new battle passes, new skins, in-game events, and more. Esports is also going to be a major marketing vehicle for these games, and they're winding up the first major mobile esports. Naturally, this begins in Asia (and to a lesser degree in Latin America); tournaments are already attracting millions of concurrent viewers, and on Facebook and YouTube (which boast large international audiences) these games are the majority of what's most watched:
We should begin to see mobile esports become more relevant in the US and Europe in the next couple years. Like in non-mobile esports, the most money will be made in Asia, but the mobile esports wave is going to be unstoppable in every corner of the globe. I'm also curious to see what the next big mobile esports trend is after battle royale becomes saturated.
Jeff Chau's "Mobile Esports is Starting to Displace Other Esports" article is still my favorite summary on the matter.
5) Most Legacy Publishers Are Failing to Adapt
Most major legacy publishers — like Activision Blizzard, Electronic Arts, Ubisoft, Take-Two, and Nintendo — still have no clue how to succeed in mobile, and there's a major divide between which companies are succeeding on which platforms. Activision is the closest, thanks to the acquisition of King and its partnership with Tencent, but even it has significant room to improve.
What's fascinating is that all of these companies have tried something (usually many somethings) — acquisitions, in-house production, outsourcing, etc. — but they've still fallen short of sustainable scale. And in some cases *cough* Nintendo *cough* the decision making is truly nonsensical.
Mobile gaming (which, in itself, can mean a multitude of things) requires a different skillset for pretty much everything, so it's hard for companies built on a completely different paradigm to simply hire mobile experts to solve all their problems. It's a talent challenge as well as a structural challenge.
The easiest and lowest risk way to gain expertise is to acquire successful mobile teams, which can apply the resources of a larger company to their already successful processes. That doesn't mean scaling up is as easy as 1-2-3, but it's a start. In reality, if a major publisher wants to seriously prioritize mobile gaming, it likely needs to tackle a few genres, and tackling a few genres takes a few teams. Hence why it's not easy to build or buy a complete mobile solution.
I do expect these publishers to improve over the coming years, but it will take serious change. Lastly, I'm in the early stages of writing a "How Console Publishers Can Win at Mobile" deep dive with my friend, Abhimanyu Kumar, and you can expect to read that in a month or so.
6) Continued Consolidation (But Getting Tougher)
Mobile gaming is an industry where consolidation can make sense. And when it makes sense, it's usually less about "synergies" and more because a skilled upstart created a brilliant idea that a larger company can help scale up, sustain, and profit from. Plus, from the POV of a larger company, it's often less risky and more capital efficient to pay for an already proven idea with room to run than spend millions testing dozens of ideas that could all fail to make it big.
This is the crux of why several larger publishers — mobile-first or otherwise — have continued to acquire mid-sized mobile companies. As legacy publishers look to expand their mobile footprint and as larger mobile companies look for continued growth, it's the mid-sized mobile companies that are first to get snatched up. I don't expect the demand for these types of deals to decline anytime soon, but it does seem like the worthwhile, mid-sized candidate pool is dwindling. That means either there won't be nearly as many acquisition targets as the larger companies want or acquisitions won't occur at favorable prices.
As the larger publishers grow increasingly desperate, it also wouldn't be shocking to see a couple larger (non-Tencent) mobile deals. EA, for example, could (maybe should) strike a multi-billion deal, and a company like Zynga currently has the same market cap as what Activision paid for King in 2016 (~$5.9 billion).
Lastly, if the mid-size market continues to consolidate and disappear, it could signal the need for greater investment in indie studios. After all, the only way to get more mid-sized mobile companies is for additional smaller companies to grow larger. Yes, these investments would be low in accuracy, but it would be great for the future of the entire ecosystem.
Honorary Mentions:
User-generated content is a popular buzzword, but it'll be a pretty huge deal. When is somebody going to acquire Roblox already?

The internet titans are showing more interest in gaming. Apart from new platforms and games, they'll have a major advantage on their own distribution networks. Facebook won't have to pay for ads on its own platforms, but everyone else will.

Gaming subscription services on major app stores — namely Apple Arcade — make sense and could be successful, but so far Apple Arcade is underwhelming. It'll probably improve over time, but targeting a broader audience will take a lot of work.

Speaking of app stores, discovery remains horrible. It could be so much better, but these platforms probably don't see a reason to invest in improving it.

Mobile video game live-streaming is rapidly growing internationally, and it'll find its way to the West (at scale) eventually.
I'll leave it at that. Mobile gaming is such a fascinating market, and I can't wait to learn more and watch it change over the following years. If you think I left anything out, let me know!
Aaron Bush (@aaronbush100)
Thanks for reading! If you enjoyed this post, please consider sharing it:
Was this email forwarded to you? Sign up here: